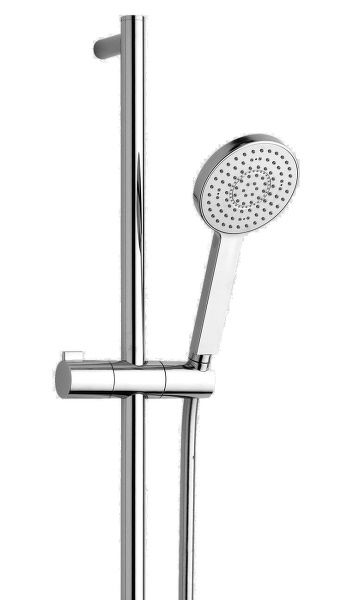 A shower on a flexible hose is mounted over the changing table.
The shower area in a Changing Places bathroom has these features:
The shower head is mounted on a flexible hose, above the head of the changing table.

The shower head and shower controls allow adjustment from both seated and standing position.

The shower uses lever-operated mixer taps with a single lever to control both temperature and flow.

The flexible hose is at least 2 m long, and sufficient to spray all surfaces of the changing table.

The shower area and floor drain are designed to prevent water flowing across the room or out the door. The easiest way to achieve this is for the shower area to be positioned in a corner of the room away from the door.

The entire room has waterproof anti-slip floor tiles.

At least two clothing hooks are mounted on the wall near the shower, one of which is within easy reach from seated position.

All wall-mounted rails and features are designed to support at least 200 kg weight, so they can be used as sitting or standing support in the shower area.

The changing table can be lowered at least down to chair level, for users who need to shower in a seated upright position.

There must be a heat source nearby the changing table.
It is not necessary to provide a shower curtain, because people who need the shower will require assistance, not privacy, from others in the room.