Note: A "sling" is the fabric support which attaches to a hoist to lift a person. Slings come in many different types, including mesh slings, hammock slings, slings with head support, and slings designed specifically for toileting. Slings are designed to meet a person's individual needs, and everyone's needs are different. It is common practice for people to have their own slings and carry them for use outside their home. Every Changing Place provides a ceiling hoist with loop-type attachment points, but Changing Places bathrooms do not provide a sling.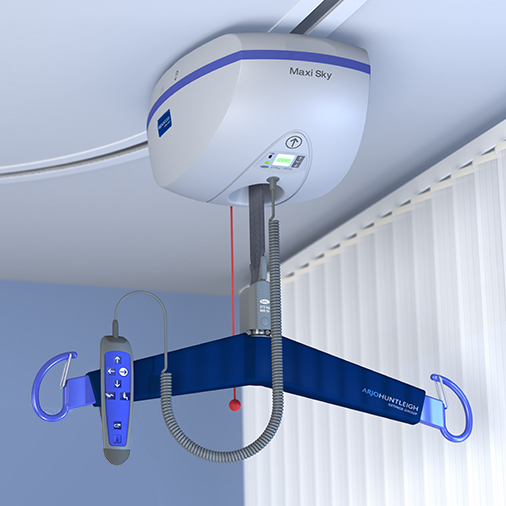 A typical ceiling hoist system.
Hoists come under a special set of legislation for personal lifting equipment. The hoist in every Changing Places bathroom must meet these requirements:
The hoist must conform to all aspects of standard ISO 10535:2006 (Hoists for the transfer of disabled persons). This means in addition to being properly designed and built, the hoist must be regularly inspected, serviced, and maintained to ensure safe use.

The safe working load (SWL) of the hoist must be at least 200 kg, with the safe working load clearly displayed on the hoist.

The controls must be easy to use, with clear signage and warning lights.

The controls must include soft start, soft stop, and emergency stop.

The hoist must come with an emergency lowering device (emergency pull cord).

The hoist must be electrically powered, with continuous charging.

The hoist must use loop-type attachment points which are compatible with a wide range of sling types and sling manufacturers.

The ceiling height of the room must be at least 2.4 m, and all ceiling-mounted fixtures such as lights, alarms, fans, and sprinklers must be recessed or mounted in a way that does not interfere with the hoist.